"Fruits360" empowers F&B businesses to make informed decisions based on their data, allowing them to access advanced analytical reports, streamline operations, improve efficiency, accelerate the decision-making process and extract deeper Insights that will boost sales and rein in costs.
Introducing Fruits360, an innovative and all-encompassing analytics platform designed to revolutionize your business operations. With its advanced features, our smart analytics solution empowers intelligent decision-making across every aspect of your restaurant, from front-of-house to back-of-house. Embrace the power of data-driven insights and unlock the full potential of your establishment, creating a more brilliant and successful restaurant experience.
The purpose of this document is to provide you with a comprehensive understanding of Fruits360's benefits and key features. Additionally, you will delve into the technical aspects of the product, explaining how you can create an account and enable Fruits360 for your business. Through this guide, you will gain insights that help you make informed decisions about integrating Fruits360 into your operations effectively.
Key Features and Benefits


Fruits360 integrates seamlessly with restaurant management systems, enabling data collection, analysis, and the generation of insights, analytics, and reports.
Foodics
Oracle Micros (Simphony)
Revel
Marn
Odoo
LS Retail
Posist
Deliverect
Grubtech
Otter
Our integration method involves leveraging APIs to connect our product with partner systems. Partners provide API documentation and grant us access to demo accounts or sandbox environments for integration testing. Once the integration is successful, we onboard our clients to the solution. Following the integration, partners list our product in their marketplace, allowing customers to seamlessly utilize our offering.
Client Enablement/ Onboarding
At Fruits360, we tailor our client enablement and onboarding process to cater to different integration methods, offering two approaches based on the selected method:
Seamless Enablement: If Fruits integrates with the partner using Auth2, the customer can enable the connection using the POS marketplace. This is done through Fruits360's integration page directly. Simply visit our integrations page and select your POS to complete the enablement.

Manual Enablement: If the enablement reuiresmore information/details, like a specific secret key, or any extra information from the customer or the partner, Fruits360's support and sales team will support during this process. Overall, the customer will receive full support from Fruits360's team for enablement once they have access to the Fruits360 demo account and reach the integration page to see the details for each integration and how to integrate with us.
Upon completion of the enablement process, the customer will promptly receive a notification and email informing them that their account is being set up. During this time, the customer gains access to a demo account, allowing them to explore the product's insights and become familiar with its features. The enablement process is swift, as we efficiently process the latest three months' data, enabling customers to view real-time information instantly. In just a few moments, the customer will have access to the complete historical data, providing them with a wealth of fruitful insights to leverage.

We primarily target the restaurant and cafe industry, aiming to assist clients in achieving their goals through our valuable insights and analytics.
We offer packages that cater to businesses of all sizes, including small, medium, and enterprise-level establishments. Additionally, we provide dedicated support for cloud kitchen restaurants, ensuring our solutions meet the unique needs of this emerging market segment.

In the realm of competitive analysis, we stand out as the leading and exclusive provider that comprehends the specific needs of the F&B segment. Our advanced analytics deliver maximum value to customers, facilitating their growth while minimizing expenses on sophisticated technology.
Through our SaaS platform, clients can effortlessly request a free trial, and within minutes, their account is swiftly set up and ready to use. This seamless onboarding process ensures quick access to our powerful tools and insights.

Installation Instructions
Using Fruits360 is straightforward since it doesn't require any installation. Being cloud-based, it's accessible anytime, anywhere. Start by simply signing up for our product, and you'll instantly access all its features and functionalities.
Fruits360 Sign Up
After signing up, you'll receive an email with a link to create your password. Click on the link, and you'll be automatically redirected to the Fruits360 Login Page.
At the Login Page, simply enter your email address and the new password you created in the password reset email. Then, click "Continue" to complete the setup and access Fruits360 seamlessly.
Fruits360 Login Page
.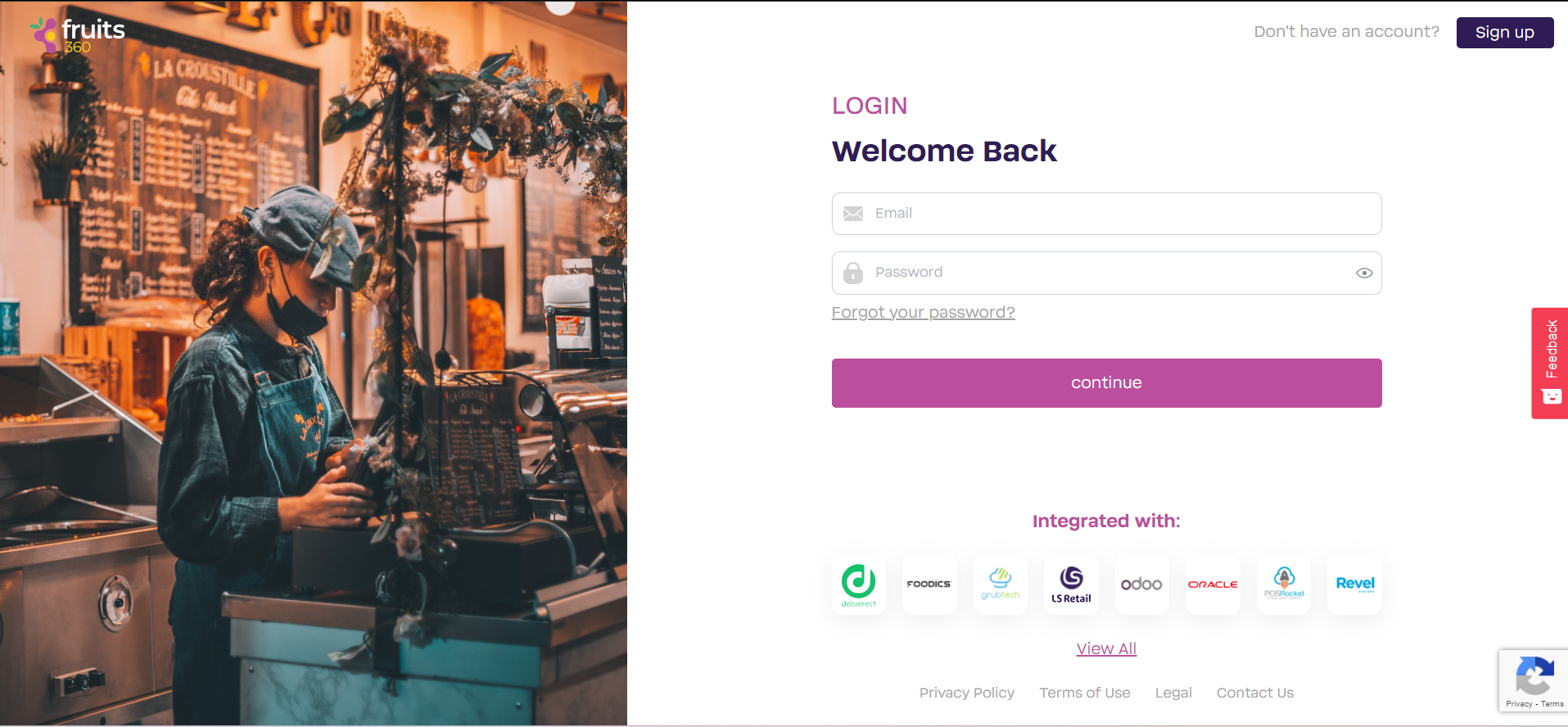 Once you have successfully signed in, you will be directed to the central hub of our extraordinary product.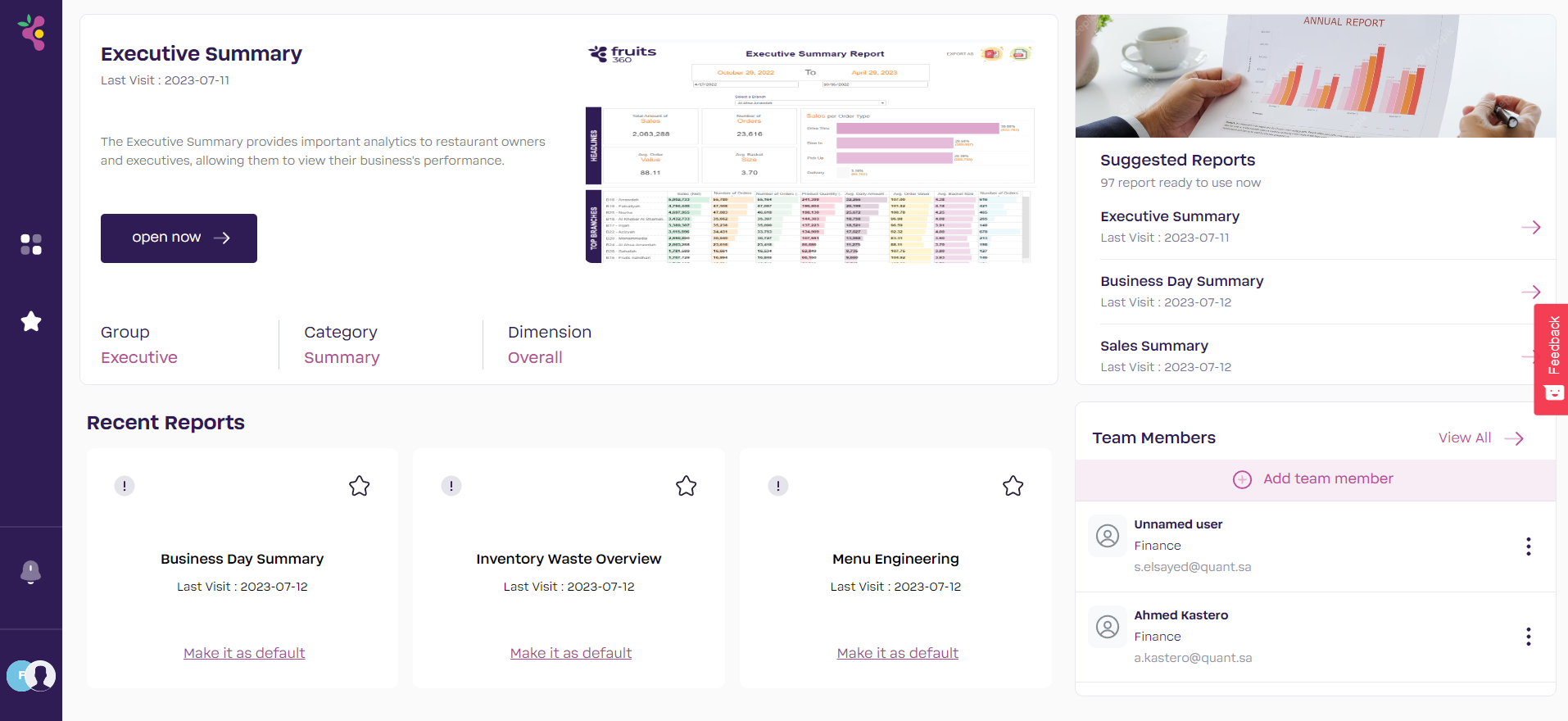 Whenever you wish to return to the landing page, simply click on it.

To access all reports and dashboards, simply click on the designated button.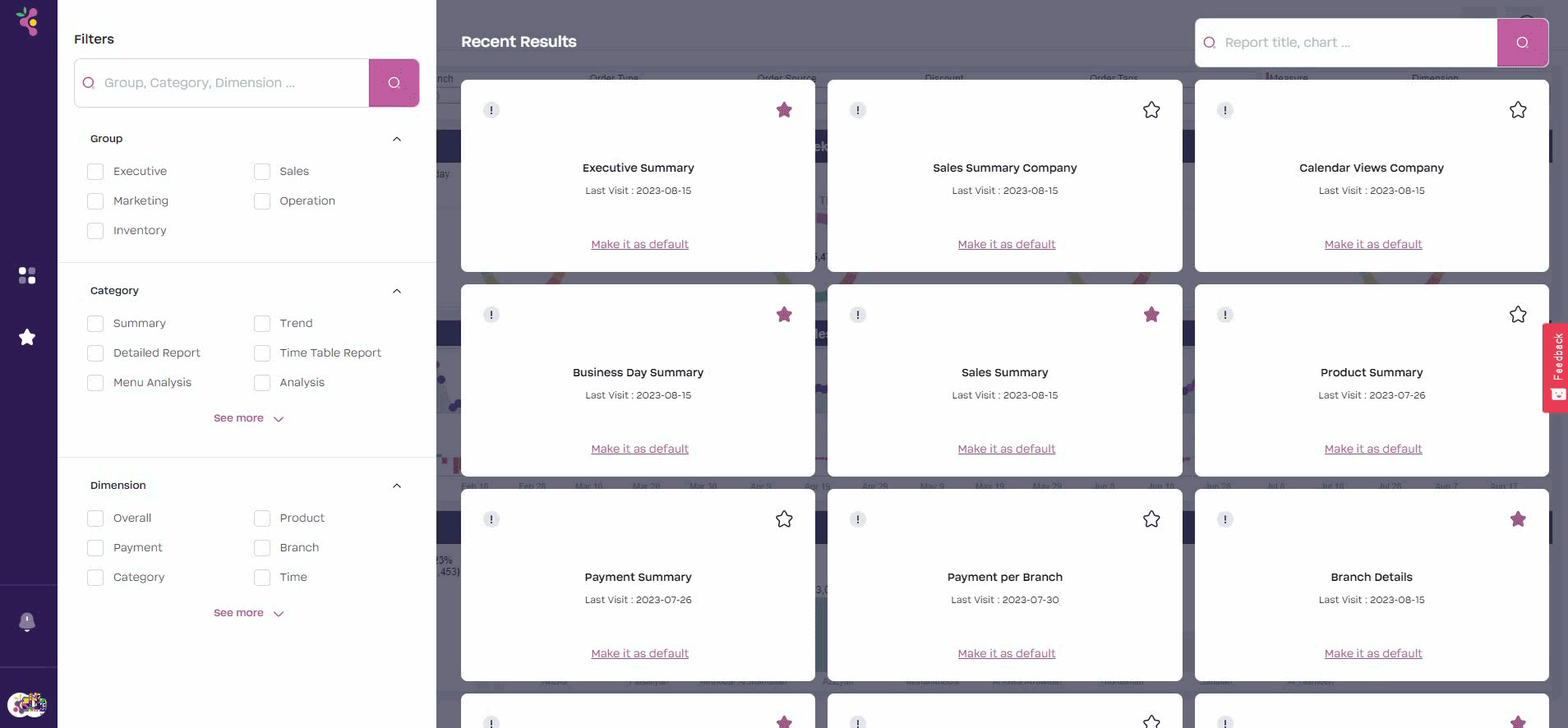 Navigation filters: you will be able to search based on a Group, Category and Dimension.
Group: At the heart of our system, this module organizes a collection of dashboards and reports. Upon clicking on any group, the report and dashboard canvas will automatically filter to present the related reports, streamlining your access to valuable insights.
Category

: This feature efficiently organizes reports and dashboards based on their specific types and formats, streamlining the presentation and navigation for a more user-friendly experience.
Dimension

: This feature enables you to select the level at which you prefer to view the reports and dashboards. For instance, you can choose to focus on branch level, category, product, customer, inventory item, or time level for a more tailored and insightful analysis.
Additionally, if you know the name of the dashboard or report, you can quickly locate it by using the search icon located at the top right corner.
To access your favorite reports and dashboards, simply click on them. Each report and dashboard features a star-shaped icon; clicking on it adds the item to your favorites list, making it easily accessible from the favorite page.

The Notification Center within the platform will display any new notifications to alert you of any new activity.

Within the setting option of the product, you can easily access and review your business and user settings. This includes information about your package, active brands and users, billing details, and more.

Clicking on the setting option will reveal a slide menu, allowing you to efficiently manage your brands and customize your preferences.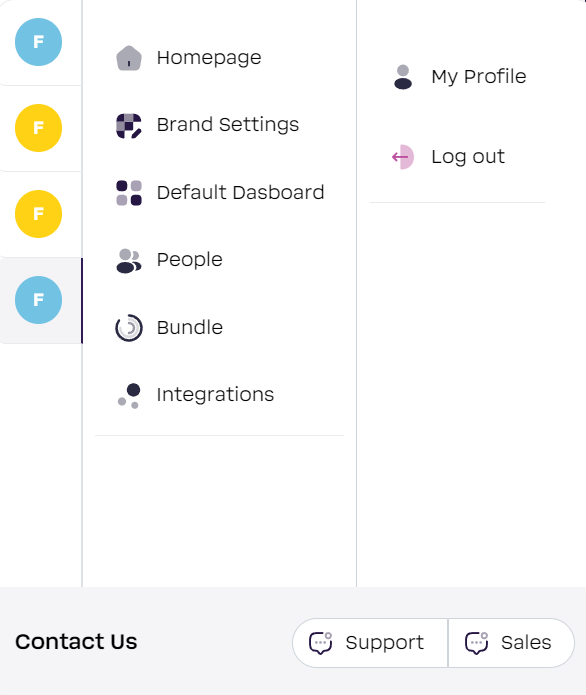 For every dashboard or report, you have the option to set it as the Default. By doing so, the chosen dashboard will automatically appear on the landing page after you sign in to the platform, enabling quick access to the most relevant information.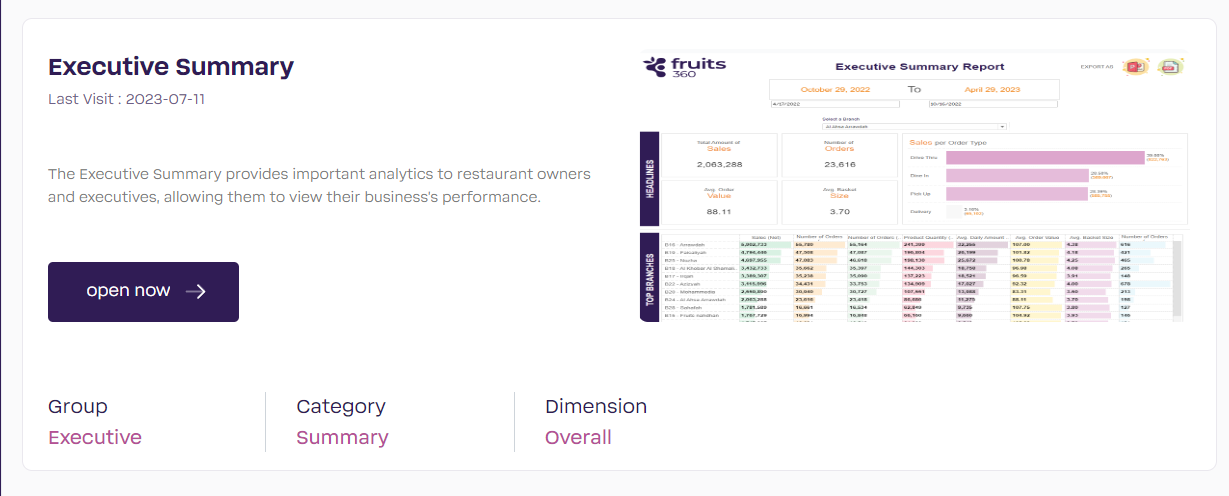 The recent report feature displays the most recently accessed report, allowing you to seamlessly pick up where you left off during your browsing session.

The suggested report feature presents the most relevant and vital reports tailored specifically for you based on your activity, the nature of your business, and the role you hold within it.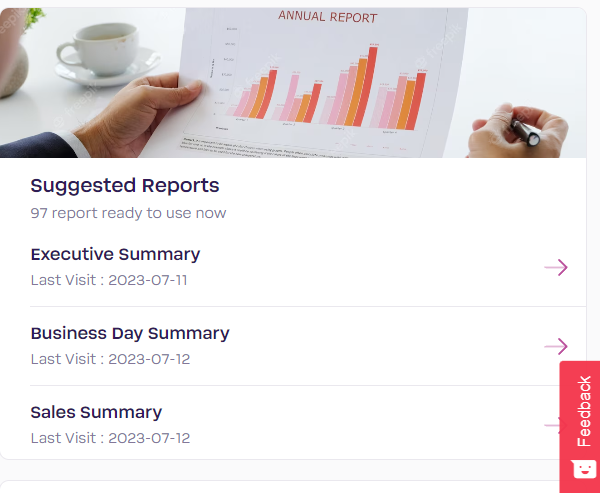 Within the team member option, you can effortlessly add a new team or efficiently manage existing teams directly from the landing page.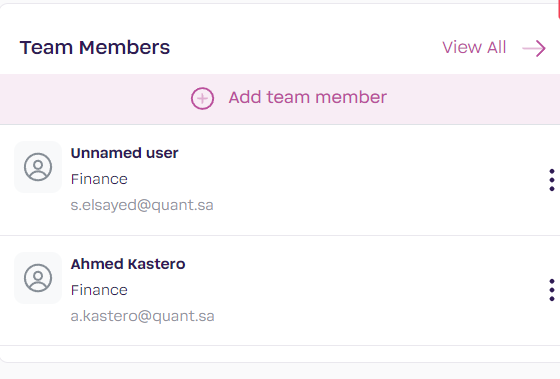 10. Browsing a Report or Dashboard
Upon selecting the desired report or dashboard, you will encounter a central component featuring various elements such as Filters, Measures, Dimensions, and an Export button. Utilizing these components, you can apply specific settings to the report, granting you access to deeper insights and valuable data.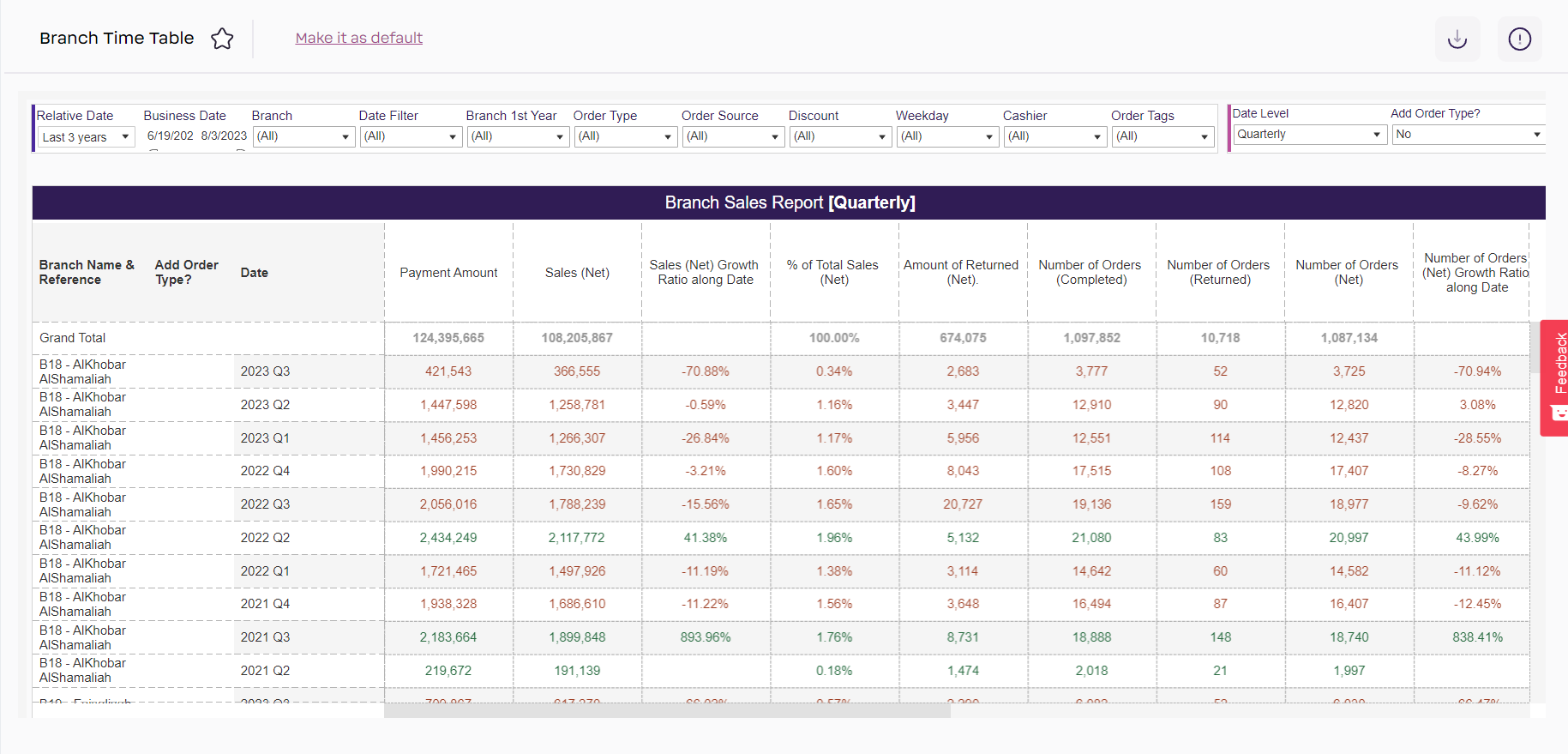 Filters: When you click on any of the filters located at the top of the dashboard or report, a drop-down list of options will appear. By selecting or removing a value from the filter, the changes will be instantly reflected on the report or dashboard, providing real-time updates to suit your needs.
Report / Dashboards: Below filters, you will find the reports or dashboards that provide you with the most essential and valuable insights.
Export : In the top right corner, you'll find the export button where you can export dashboards in different formats (Image, PDF and Crosstab (Excel or CSV)).

Info: The info button in the top right corner provides more information on the dashboard you're viewing.

Frequently Asked Questions (FAQs)

Who can see my business data? The user with Company Owner access can grant access to others within the company through the platform. Other than that…no one!
How often is the data refreshed? We automatically import your POS data once a day.
Can I export all my data at once? Data export for individual insights is always available in several formats. However, if you would like to export your data in bulk, please

Contact Us

for a quote.
Is my data safe?  We host your encrypted data in a stand-alone cloud database for top notch security and peace of mind.
Will my data get used in future aggregated analysis? Your anonymized data is used by our R&D department to develop new insights and features only.
Does your platform integrate with other software and tools? Fruits360 integrates with a variety of tools and software, making it easy to manage your restaurant. Check our Integrations *link* page for options, or fill out a Partner Request *link* if you don't see the tool you're looking for.
Can I open Fruits360 on multiple devices? Fruits360 can be accessed by any browser which allows you to access it using your preferred device for convenience.
Are the insights available from a mobile device?  The in-depth nature of our platform means that you'll be able to adjust and view reports much more reliably on a laptop or desktop. However, there's nothing stopping you from opening Fruits360 in a mobile browser.
Can Fruits360 analytics track customers' gender? If your POS tracks gender, we can display it in your insights.
What are the different permissions levels?

Company Owners: Add other users and set their permission level.
Dimension Editor: Edit/update the dimensions from the central panel, plus view access.
Regular User: View and browse the dashboards.

Can I add product KPIs on Fruits360 and track their progress? Any admin can customize the company insights from the control panel. Add targets for each branch or product and monitor their performance.
Can I view my data in real time?  Due to aggregation and data processing going on in the background, the most recent data available to you is for yesterday's data.
Will I be able to export my insights in any format?  You can export any insights into PDF, PowerPoint, Excel, or image. This makes it easy to pass data on to your finance team or use in a presentation.
Do Fruits360 users need to have technical skills? As long as you can open a browser and log in, you'll do fine! Our dashboards were created by data scientists so you don't have to be one. Our customer service team is available if you have any questions as well.
What is Fruits360? Fruits360 is a BI and analytics product that connects to restaurant management systems to provide advanced analytics and a comprehensive overview of your business. It enables you to extract actionable insights to grow your business in the right direction- based on data, not guesswork.
How long does it take to connect my integrated POS account to Fruits360? Connection is instantaneous! You'll be able to view recent data within a few hours. Historical data may take 5+ days depending on the amount of data you have.

 
Can I get more information to share with my organization?

Contact our sales team

and they'll provide a company profile for you to share.
Do you offer a demo or appointments to talk one-on-one about my questions? Sure! Schedule a demo with one of our friendly sales people. They're happy to answer any questions you have about your use case.
I do not see my POS in the **Partner POS** list, can you integrate with it? We can integrate with any cloud-based POS. Fill out the form **here** to request the integration. To make sure the platform is right for you, you'll be able to view demo data in the meantime.
How can I contact the sales team? Just fill out this form and we'll be in touch.
How can I connect my POS to Fruits360?  Simply start your Free Trial or sign up for a paid plan. You'll be able to select your POS and we'll guide you through connecting it with your POS credentials.
Can I get a trial account? Yes! If you your restaurant management system is listed on our Integrations page, we'll **connect your account** and get you going with real live data! If your POS isn't yet integrated, sign up to view our software with demo data. If you love the platform, we can usually enable a new POS Partner within a few months.
How do I renew my subscription? Billing is handled automatically every year. You'll receive an invoice at the time of billing.
Will I lose my data if I do not renew my subscription?  Your data will remain hosted under your account, but the access will be disabled until you renew the subscription.
Do you have an online guide so I can learn about the features? Check out all of the **How To Videos** we have available. A Customer Success Agent will also be assigned to you to get you started.
Will there be personalized training on how to use Fruits360 after I subscribe?  After your paid subscription begins, our customer success team will schedule a training session with you and your team. You'll get your questions answered and learn how to deep dive into the software.
What are your customer support hours? We have a helpful support team working 5 days a week from 9 AM to 6 PM KSA local time.
Marketing and Sales Support
Marketing
: For any joint marketing campaign, you can easily communicate with our partnership team
partnerships@fruits360.io
.