We are excited to release Fruits360 Version 2023.2, packed with a new and improved navigation experience to make your user journey even more seamless and efficient. In this update, we focused on enhancing key areas to give you a delightful user experience. Let's dive into the exciting features and improvements awaiting you:
Reimagined User Interface
With the ongoing growth of different insights and reports that Fruits360 provides, it became difficult to reach the specific insights users look for. In Fruits360 Version 2023.2, we focused on improving the user interface to make it more intuitive and user-friendly by introducing a completely redesigned sidebar which now offers a more streamlined navigation experience that will allow you access to your favorite reports at a glance.
Access the reports & dashboards you most frequently use in a new tab especially designed to keep access to your reports seamless.
Navigating through Fruits360 has never been smoother. We implemented an enhanced filtration system to accelerate your search for specific reports. With this improved system, you can now search for reports and dashboards by department, type/function of report, or dimension.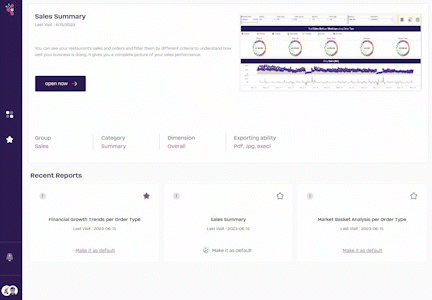 With the new Notifications Center feature, you'll never miss a beat. Receive real-time updates on important changes, alerts, and notifications directly within Fruits360 to stay informed.
The control panel will now allow you to manage your account more effectively. You'll now be able to manage multiple brands and integrations, and edit dimensions that will be reflected on all of your reports. This centralized approach simplifies the management of crucial aspects of your Fruits360 account.
2. Quick Access Home Page
With Fruits360 Version 2023.2, you now have the power to tailor your homepage to suit your needs. With recent, suggested and default reports you'll access the data that matters most to you and enhance your productivity and efficiency.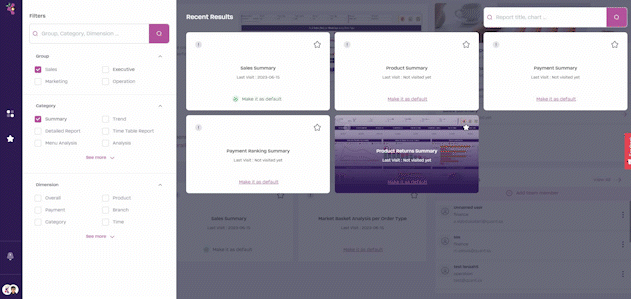 Pick up where you left off easily with the Recent Reports section. As soon as you log in, you will find the reports you last visited ready, eliminating the need to search for them manually.
We'll keep valuable insights easily accessible to users by offering suggested reports tailored to their specific department or function ensuring quick access to crucial information and maximizing the value derived from Fruits360!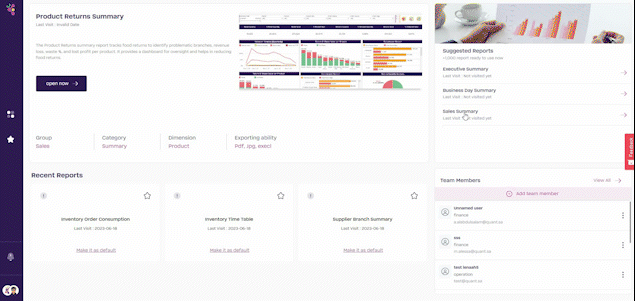 Fruits360 now allows you to choose a default report or dashboard to be displayed on your home page at all times to ensure you can access crucial insights with a single click.
---
We are excited to bring these updates to Fruits360. Your feedback and satisfaction is important to us, as always. If you have any questions, or suggestions, or need help, our support team is always here to help. Reach out to us on our social media channels or email us at Support@fruits360-website-staging.azurewebsites.net.